Comparing Yields on the Top Savings Accounts
POSTED ON
I thought it would be interesting to compare the APY rates of the top savings account for this year. If you're deciding on an online bank primarily due to its high interest rate, you want to know not only that its current rates are high, but also its history of rates has been high. So I've created a graph comparing savings account rates for three major players: ING Direct, EmigrantDirect, and HSBC Bank. My main criteria for these is that the accounts have no initial or balance minimums. There are a few other banks that may qualify such as UFB Direct. UFB Direct doesn't allow you to link its savings accout to an external checking so I excluded it (also I didn't want to over complicate the graph).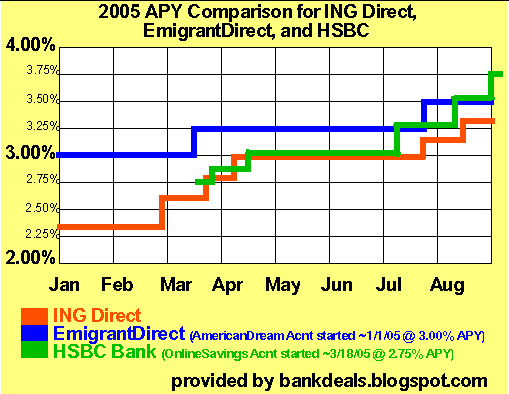 ING Direct is the granddaddy of this type of online savings account. It has been offering its no-minimum Orange Savings account for years.

EmigrantDirect just started offering its AmericanDream Savings Account around the start of the year. Its 3.00% APY was successful in getting attention. At this time, ING's savings account was only at 2.35%.

Then came HSBC's Online Savings account in March. For the first few months, HSBC's savings account offered rates comparable to ING.

Throughout the year, EmigrantDirect has maintained a lead over the other two. At the start of the year, EmigrantDirect was 0.65% above ING. But ING has been consistent in raising rates. Currently, ING is only 0.20% under EmigrantDirect. In the last two months, HSBC has gone past ING, and as of yesterday has even gone past EmigrantDirect.

Note, I had to review several sources to retreive this history of interest rates. I might have missed a few changes. Also, some of the dates may be a little off. Feel free to leave a comment if there's something that I missed.