Updated Rate Chart and EmigrantDirect's Growth
POSTED ON
I received a letter from EmigrantDirect yesterday informing me of their new customer service center in Westchester, New York. The letter included some interesting facts regarding the bank's growth. Here's what it said:

EmigrantDirect is the most successful and fastest growing internet bank in the country with more than 150,000 customers and over $4,500,000,000 in deposits!

This is consistent to what I read in a Wall Street Journal article that discussed the new online banks. The article stated that Emigrant Savings Bank (the parent of EmigrantDirect) had doubled its deposits this year to more than $9 billion.

Updated Chart

Here's the updated rate chart showing the latest increases from EmigrantDirect, HSBC, and ING Direct. Also, I've added the Fed funds rate changes for this year.(click to view full-size chart)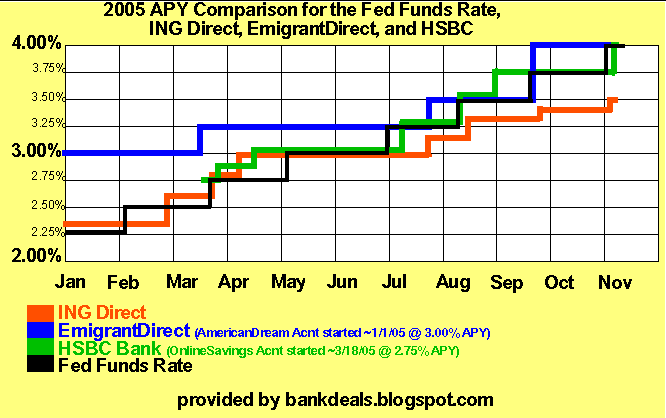 While other banks slowly increase their rates, EmigrantDirect gets publicity by making big changes. It started early this year when it began operation with a savings account rate of 3%. At that time ING Direct was only offering 2.30% and few if any banks had savings accounts over 2.50%. This got people's attention. But ING Direct and other banks caught up. For the middle part of this year, Emigrant only led ING Direct by 0.25%, and other banks started to surpass Emigrant. Then on the day of the Fed's interest rate hike last September, Emigrant hiked its savings account rate from 3.50% to 4.00%. At the time, Presidential bank was the highest at 3.87%. Several other banks were at 3.75%. Emigrant was the first to reach 4% and again it got publicity.

Another thing this chart points out is how ING Direct has changed. For the first half of the year, ING Direct stayed close to the Fed funds rate. At a few times, ING was even higher. But since July the gap between the funds rate and ING has widen. Now ING is 0.5% under. But HSBC has been doing a good job at staying with the funds rate, and Emigrant has been ahead of it for most of the year. However, during the second half, there has been several times when Emigrant has only equaled the funds rate including the present time.

Note, feel free to post the chart at your blog or forum. I only ask that you maintain the webpage name at the bottom.